The film "Collector" (Коллектор) is the directorial debut of Alexey Krasovsky starring Konstantin Khabensky. The director has achieved the quite complicated task of creating a film with only one actor and using a single set. The actor who plays the role of a debt collector created an impressive character whose different aspects of personality unfold and transform during the film. In the beginning he is depicted as a heartless manipulator and by the end we see another person, one longing for love and understanding. This transformation is convincing due to the work of Khabensky who was not afraid to tackle a role in a film which can be described as experimental.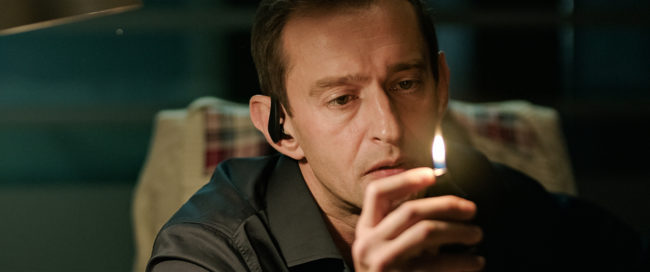 This film is more than just one-man show due to the successful work of the a director and cinematographer who were able to create a mysterious atmosphere and a dynamic evolution of the plot. The movie is ambiguous and leaves room for thought. It focuses on the personality of the protagonist what is becoming a rarity these days in the era ruled by special effects, exotic locations and non-stop action. The film has an important message; the collector represents not just a debt collector, but also a collector of material values and socialization with important people. However this style of life does not give him true fulfillment, these principles are perishable and only corrupt the soul. Even his relationship with his girlfriend is superficial and does not pass the test of hardships.
An unexpected problem changes his life and he is losing his so-called successful position and important friends. When the collector faces the trouble and suddenly becomes an outsider, he starts to feel human emotions;  guilt, compassion and longing for true love and another life. But it is too late. His past haunts him and he is not capable of escaping it. The ultimate solution of the situation is his death. The circumstances of his death are not clear, however the tragic end makes us feel sympathy towards the collector, no matter what he is punished for.
The picture is one of the most artistically successful films of the year 2016 and has received several film awards, including the Best Actor and Best Cinematography at the Kinotavr Film Festival. It also received the FEDEORA Jury Award at the Karlovy Vary Film Festival and will be shown again in the Czech Republic at the Prague Independent Film Festival in 2017.