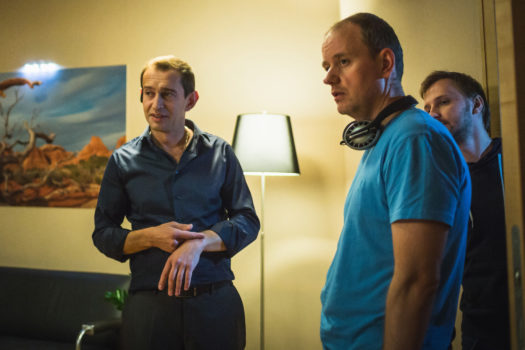 The film "Collector" received three prizes at the Prague Independent Film Festival 2017. This film received also other important international awards and was regarded by critics as innovative and highly original film starring only one actor — Konstantin Khabensky. Director of the film Alexei Krasovsky answered the questions about this film and his plans for the future.  Questions by Yulia Vovk — Prague Telegraph – ptel.cz, translated from Russian by Diana Ringo.
Yulia Vovk: Did you initially plan "Collector" as a single-actor film?
Alexei Krasovsky: Yes.
Yulia Vovk: Why did you choose Khabensky for the film? How did you manage to get him for the main part? Did you have any backup plan in case Khabensky rejected the role?
Alexei Krasovsky: In the worst case I was ready to play myself, but fortunately Konstantin agreed, and I limited myself to the offscreen role of the debtor with a parachute. I never try to coax actors, I think that the text should do it for me. If they find the script interesting or if they just have free time, then we continue working.
Yulia Vovk: How long did the "Collector" script lie on the shelf and wait for its hour?
Alexei Krasovsky: It did not lie, I walked with it around Moscow persuading investors, sent it to different companies, for example from one company we only received an official response we had already shot the film. Almost a year went by with this chase, but it is not a record: the script of "Elephant", which I plan to shoot next year, I wrote seven years ago.
Yulia Vovk: Was it hard to work with one actor on the set?
Alexei Krasovsky: Before this feature film I shot a TV series where there were two actors in the frame, but I can not say that it's twice as difficult. Of course, we have to invent more transitions between frames, there is no partner to switch to, all attention is concentrated on the protagonist only — yes, there are complexities, but these are nice ones for solving logically.
Yulia Vovk: How did you convince the producers in the future success of the film?
Alexei Krasovsky: To promise them success would be presumptuous as we were not sure even that we would get a wide distribution service, but it was our goal. On their part it was also a big risk, because previous one-man films did not collect a lot of money at our box office, and the word "psychological" in the genre's name frightened off everyone.
Yulia Vovk: Do you think it is possible to make a movie without any participation of an actor?
Alexei Krasovsky: It is possible, and one such film we have already shot with my permanent editor Artem Baryshnikov; it is a short film called "The End" which is available on my YouTube channel.
Yulia Vovk: Can the film "Collector" be viewed as a metaphor?
Alexei Krasovsky: After the picture hit the screens, the audience decides what they saw: a story, a metaphor, or an anecdote. I would not like to impose one "correct" point of view, I do not believe that it exists
Yulia Vovk: In the film there are several references to the field of medicine. Is this because of your medical background?
Alexei Krasovsky: Yes, these are acerbic references from the past which I wanted to insert.
Yulia Vovk: How did it happen that once upon a time you ceased to see yourself as a doctor and undertook filmmaking and write screenplays?
Alexei Krasovsky: For me the right question is: why did I go to medicine if I always liked movies? In my city there were no film schools so such a thought simply did not cross my mind. Working as a doctor, I continued to write stories and novels until I once wrote a script that others appreciated. It was a very smooth transition, not something which happened in one day. In addition, I wrote TV series about doctors for a long time: "General Therapy", "Military Hospital", "The Cost of Living."
Yulia Vovk: How do you evaluate the film Collector?
Alexei Krasovsky: As a debut which was a success thanks to wonderful people and a concurrence of circumstances. I'm happy that I was lucky to work with good actors not only in the frame, but also in dubbing. A sober assessment can be given probably only many years later. Now I want to think more about new stories.
Yulia Vovk: You made your debut as a screenwriter in the cinema. Perhaps you are already working on some new picture as a screenwriter?
Alexei Krasovsky: One ready-made script I really want to give to another budding director, so that he can shoot his debut. Other screenplays I will try to film myself.
Yulia Vovk: How did the movie industry accept you?
Alexei Krasovsky: Speaking of the formal side of the matter, they accepted me well, bestowed several nominations and awards. I have connections now with major studio directors. But if you continue to want to make movies on topical issues – these connections  will not help you, and you'll have to search for money as before.
Yulia Vovk: How can you comment on the current situation in Russian cinema?
Alexei Krasovsky: The main trouble is that loyalty is valued above professionalism. It is not important for us what you know, but who knows you. It does not matter how much money you collected at the box office or prizes at foreign festivals, it's important who you support: opposition and liberal values ​​(and then your theater will be closed again and again) or the president (and then everything will be all right for you). But it also happens in other spheres of activity: look who wins the tenders and disfigures our capital in the guise of improvement … Cinema in this sense is no exception.
Yulia Vovk: What do you prefer: to shoot TV shows or movies?
Alexei Krasovsky: In the cinema there is more freedom (and self-expression as well). On television there are a lot of links in the creative chain and it's exhausting: you can rewrite the pilot twenty times, and then the leadership of the channel will change and will slaughter the idea in favor of some other adaptation. But we will try to change this situation too, thankfully there is at least one independent channel in the country.
Yulia Vovk: What would you advise (TV series or film) our readers to see?
Alexei Krasovsky: May I instead name the authors whose works I follow? David Kelly, Aaron Sorkin, Charlie Kaufman, David Mamet, Stephen Moffat. All what these people write and shoot I usually see more than once.
Yulia Vovk: Is it true that some of the money from the film "Collector" went to charity to help sick children?
Alexei Krasovsky: True.
Yulia Vovk: Would you like to try your hand at being a cinematographer?
Alexei Krasovsky: When we made our short film I tried that too. If I had more time, I would have studied a dozen more professions (not only in the movies), but for now I am happy to enjoy directing.
Yulia Vovk: Would you be interested in making a comedy?
Alexei Krasovsky: "Elephant", which I mentioned earlier, will be a comedy.
Yulia Vovk: Collector received many awards and recognition of the public. This is now, but what were your feelings before the premiere?
Alexei Krasovsky: The first premiere was a closed one in the cinema "Illusion", the second one was at Kinotavr, the third one was official before the release, each was exciting, in Sochi of course it was the most difficult experience as there were many colleagues and other professionals. Nervous, but I will not say that it was terrible, but when the electricity suddenly went out during the screening — then it became much more difficult.
Yulia Vovk: Which directors' works do you watch with pleasure? Who inspires you?
Alexei Krasovsky: I do not watch movies to be inspired, and if this happens, it's more likely by accident. Before the shooting I do not watch anything at all, all thoughts revolve around my own story. There is no guarantee that you will find a saving formula in a great film. A new idea can be born both on the way to the store and while watching a bad movie. Favorite directors: Daneliya, Soderbergh, Hossein, almost every year I re-watch Aronovich's "Confrontation". "The eldest son" by Melnikov. I hope that Grigory Gorin will become fashionable again and new films will be made based on his work.